Have you ever had information subpoenaed? Your state or local government may have a Sunshine Law that requires you to supply a requesting attorney or judge with a copy of your records at any time. Some states may even require you to supply a hard drive loaded with your database. At the same time, you may not be obligated to supply certain confidential records, such as Case Records for homicides and where the cause of death has yet to be undetermined.

CoronerBase is your solution for fast and easy compliance with such subpoenas. Without CoronerBase, you may need to spend an inordinate amount of time manually copying information, while filtering out confidential information, hoping not to make any mistakes in the process. With CoronerBase's built-in Sunshine Selective Database Replication Utility, you can quickly and easily specify which type of Case Records to copy, and which to leave out, then let CoronerBase do all the work of copying the relevant information.

Of course, if you felt you had the time to do so, you could make an exact copy of your database manually, then delete the confidential records one by one... however, if you take that approach, those confidential records may be easily retrieved by anyone, since the data once did exist on the system. With CoronerBase's Sunshine Replication, it only copies the Case Records that need to be copied, so the confidential Case Records are never put on the target system that you'll be supplying to the requesting party, and can therefore not be undeleted, making it a highly secure solution for complying with the Sunshine laws of your region.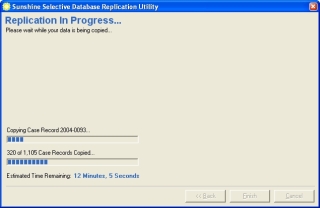 Not only is our approach highly secure, but it's very productive and user friendly, saving potentially hours of your time. The Sunshine Selective Database Replication Utility is in a simple "wizard" format, taking you step by step through the process of copying the relevant portions of your database.

To select which Case Records are to be copied, we've provided an interface that works just like our search feature, allowing you to specify which records to copy based on their content... such as not copying homicide or undetermined cases, etc.