CoronerBase offers you a truly impressive and comprehensive statistics feature. CoronerBase's statistics feature is fully integrated, extraordinarily robust, and extremely flexible. There are no separate modules to purchase, and you can literally generate any kind of statistics information that you can imagine.

We've put you in complete control by giving you the tools to quickly and easily retrieve the exact information that you are interested in, so the information you need is immediately available. CoronerBase does not limit you in any way. Rather than offering only predefined ("canned") statistics, it allows you to truly create the statistics you need by offering you a choice of a wide array of statistics functions as well as separating results by groups, any of which can be applied to your choice of hundreds of fields.

Utilizing the robustness of our search component, which is also built into the statistics feature window, you can define the records from which your statistics are generated by creating a search filter. The search filter parameters you are able to specify allow you to create any type of search filter using one search criterion or a combination of search criteria, allowing you to create search filters ranging from the simple to the extravagant. With CoronerBase, you are in full control.

For example, if you wanted to know what the average age, range of age, average weight, and range of weight was for males between the ages of 30 and 60 that died from myocardial infarction, that lived in a specific county, city, neighborhood or street, that had a history of heart disease and alcoholism or drug abuse, and also worked as a factory worker, CoronerBase can give you the information instantly. Whatever you can imagine, it can produce, whether simple or complex, the choice is always yours.

In addition to being able to generate any type of statistics you can imagine, CoronerBase also allows you to easily use your statistics in other applications such as Microsoft Excel and Microsoft Word where you can create your own reports on the fly.

One of the most handy things about CoronerBase's Statistics feature is the ability to save Statistics items/packages for later retrieval, allowing you to quickly and easily regenerate the same sets of statistics at any time.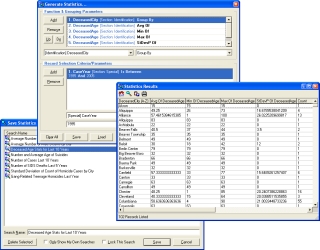 Or, you can load a previously saved Statistics package that you've already defined, and "tweak" it by modifying any of the parameters. This powerful capability allows you to create templates for use at any time, which is especially handy for annual reporting, where you can use the same basis for generating specific types of statistics year after year. Whatever statistics you need, CoronerBase delivers.
The ability to generate useful statistics can be a crucial component to your job, particularly as it pertains to Annual Reports and the Discovery of Trends, where your recommendations can truly save the lives of others.
Without an integrated and comprehensive statistics package, Annual Reports can take a long time, with some Coroners reporting a timeframe of weeks to complete. The bottom line is that manually tabulating and calculating information and generating accurate data from that data is a very time consuming and arduous task. CoronerBase greatly simplifies this process by putting the right tools in your hands, allowing you to get the information you need quickly and easily.