CoronerBase provides an incredibly flexible and robust search capability. CoronerBase puts you in complete control by allowing you to add new parameters on-the-fly, with a full palette of CoronerBase's hundreds of data entry fields from identification to cause and manner of death to toxicology results, and a full range of search comparison operators. With this kind of power and flexibility, you can construct any search that you can conceive.

Literally any type of search is possible. For example, if you wanted to find out (or run a report on) which cases involved a male of a specific marital status, in whose blood was found evidence of either marijuana or alcohol at or above a certain amount, within a specific age group, within a specific region, whose injuries occurred within a time (or range of times) of the day, whether or not it was a vehicle related injury, and whose death occurred at a specific time (or range of times) of the day, then CoronerBase wouldn't even break a sweat. What makes CoronerBase's searching so powerful is that we haven't decided which fields must be important to you, and what types of searches must be important... we let you decide... every bit of the entire database is searchable with any criteria, allowing you to create any kind of search from simple single-field searches to complex multiple-field searches with any number of criteria per field.

Searches can be shown in a list, where you can view, print, or export to the Windows clipboard for instant integration into any other application. You can also run standard, specialized, or custom reports off of your search results, where you can print to any printer or export to Adobe PDF, Microsoft Word, Microsoft Excel, as well as other formats. Additionally, you can use the search feature as a filter to show a smaller set of records in the main program interface where you can edit the Case Records as needed.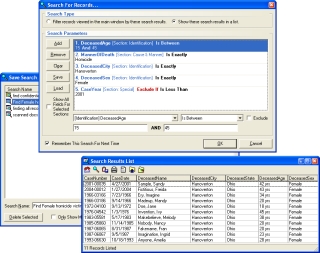 Best of all, CoronerBase provides you with the unique ability to save your searches, then reload and run them at any time. This allows you to create your own pool of commonly used searches that can be accessed whenever you need them! Whether being asked for information over the phone, or pulling vital statistics for analysis and reporting, CoronerBase gives you a robust and easy to use means to perform any search you may have a need for.

Having this kind of power and flexibility will save you an enormous amount of time, since you will not have to manually iterate through many records to find the information you're looking for.