With built-in support for nearly every digital camera and scanner available on the market today, CoronerBase makes the integration of digital photographs, scanned documents and photos easier than imaginable. Just plug the camera or scanner into your computer and press a button. CoronerBase takes care of the rest by automatically acquiring all of the digital imagery you need for a given case. For those that need it, CoronerBase also offers a great deal of flexibility and control with a rich set of features, including the ability to add imagery already stored on a hard drive. CoronerBase makes digital imagery simple, easy to use, and very robust.

Rather than forcing you to use multiple software applications to include digital photographs and scanned documents, CoronerBase has support for these technologies built directly into it. There are no separate modules to buy or use. CoronerBase also eliminates the hassle of trying to associate digital photos and documents with a particular case, which can lead to errors and waste a significant amount of your time. In short, digital imaging is seamlessly integrated as part of one unified application.

Once you've added digital photographs or scanned documents into a Case Record, it is automatically associated with the given case, so every time you access any given case, it's associated digital imagery is immediately available.

In addition to being able to instantly acquire digital images directly from your cameras and scanners, CoronerBase also allows you to easily print digital photographs and scanned documents. Printing digital imagery with CoronerBase is extremely flexible, allowing you to generate photographic prints as well as duplications of documents. In fact, CoronerBase offers an extremely unique feature that allows you to print exactly duplicated scanned documents as if they had been photocopied. In fact, with a laser printer, the reproduction technology is virtually identical, offering extraordinarily faithful duplication. That, combined with regular backups, can go a long way in providing safety and persistence your photographs and paper documents.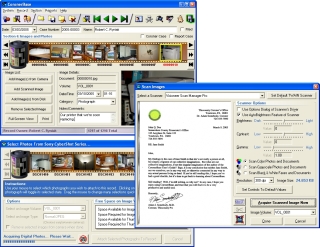 If you are concerned about the security of your digital photographs and scanned documents, so they may be trusted in court, then CoronerBase also offers significant security. With CoronerBase, digital photographs and scanned documents are entered directly into the system without passing through any other software applications or modules, and without giving the user the opportunity to digitally manipulate the photographs and documents, making your photographic evidence unavailable for potential modification.
Combined with the use of a secured image server, the use of audit trails and other tracking measures become entirely unnecessary, since there is nothing to track, as the images are simply never available for modification, significantly improving the trustworthiness of your digital evidence.