Software as richly featured as CoronerBase offers the most benefit if you are able tailor it to meet your needs. The more robust the software, the more choices you should have.

CoronerBase also delivers to you an extraordinary amount of control over every critical feature. If you don't like the way a certain feature is behaving, CoronerBase allows you to fine-tune it, or even completely disable it. With CoronerBase, if you prefer, you can be in control over exactly how the system behaves, with easy-to-use configuration pages that are carefully laid out with options fully described, so you always know what you're dealing with. Or, you can choose to leave everything at their default settings, which have been carefully selected to meet most needs very nicely. Either way, CoronerBase remains easy to use while giving you an unprecedented amount of flexibility, so you don't have to adjust to someone else's vision of how your technology should work for you.

To top it all off, we've created comprehensive documentation in a professionally printed and robust User's Guide that exceeds 250 pages. The User's Guide is very easy to follow and packed with information, including step-by-step "how to's", as well as chapters on every key feature which can be used for quick reference.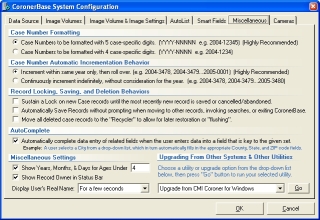 The User's Guide also includes many screen shots, so you will be able to immediately associate the content discussed in the User's Guide with the various areas of the program.

You can also access the User's Guide digitally from your PC. Just select the "Help" option from within CoronerBase, and all of the same information that you'll find in the User's Guide is available for quick review.