CoronerBase includes a rich and comprehensive set of data entry fields designed for information storage, research and tracking, as well as for easily generating Coroner's Reports, Death Certificates, and other reports at the touch of a button.

Any type of information that may even be remotely useful to any aspect of a case can be entered into the easy-to-use data entry screens. Including all manner of names and addresses, who was on the scene (and when), highly descriptive investigation details, toxicology and autopsy results, infant related information, cause and manner of death, and so much more. It's all in there! For a complete list of information that you can enter, then please click here.

Additionally, using computer databases and software is an extraordinarily secure means of protecting your county's vital records. If your state or other jurisdiction requires that you maintain paper records, utilizing digital records, photographs, and scanned documents as well will ensure that your paper records are protected from fire and other "acts of God", as CoronerBase will allow you to easily recreate any paper records that may have been lost. If something unfortunate should occur to your office building or other filing location, you can reprint anything that has been lost.

Each category of information, such as identification, incidence/scene information, investigation details, cause and manner of death, infant related information, photographs and scanned documents, etc. can be seamlessly accessed at any time from the readily-identifiable icon tabs on the top right of the screen, which when clicked will instantly display the correct pages just as you would flip through pages in a paper filing system.

There's no need to scroll through hundreds of fields, or navigate back and forth between multiple popup forms, trying to find the right place to put something, as each section is carefully laid out, and readily accessible with the click of a mouse, to help you quickly navigate to the appropriate data entry fields.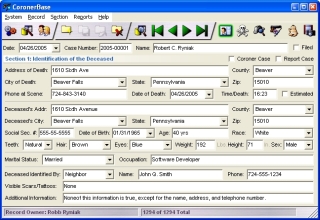 Maintaining the security of your data is also made easy with full database encryption and robust user-level security. Rather than merely monitoring changes to the data, CoronerBase is proactively preventative. CoronerBase's security features prevent the data from being modified from outside of the confines of the CoronerBase application, as well as allowing you to specify which users inside the system are permitted to add new data, which are allowed to modify/delete data that others have entered, and even which users can modify/delete the data that they themselves have previously entered. With the combination of CoronerBase's security and encryption features, the need for an audit trail is entirely eliminated since data cannot be modified in the first place by unauthorized persons under any circumstances.
CoronerBase will also work with any database backend, from Microsoft Access to SQL Server to any ODBC or OLEDB complaint database server system... and migrating from one to another is a breeze, making CoronerBase an exceptionally flexible and scalable solution for Coroners and Medical Examiners.